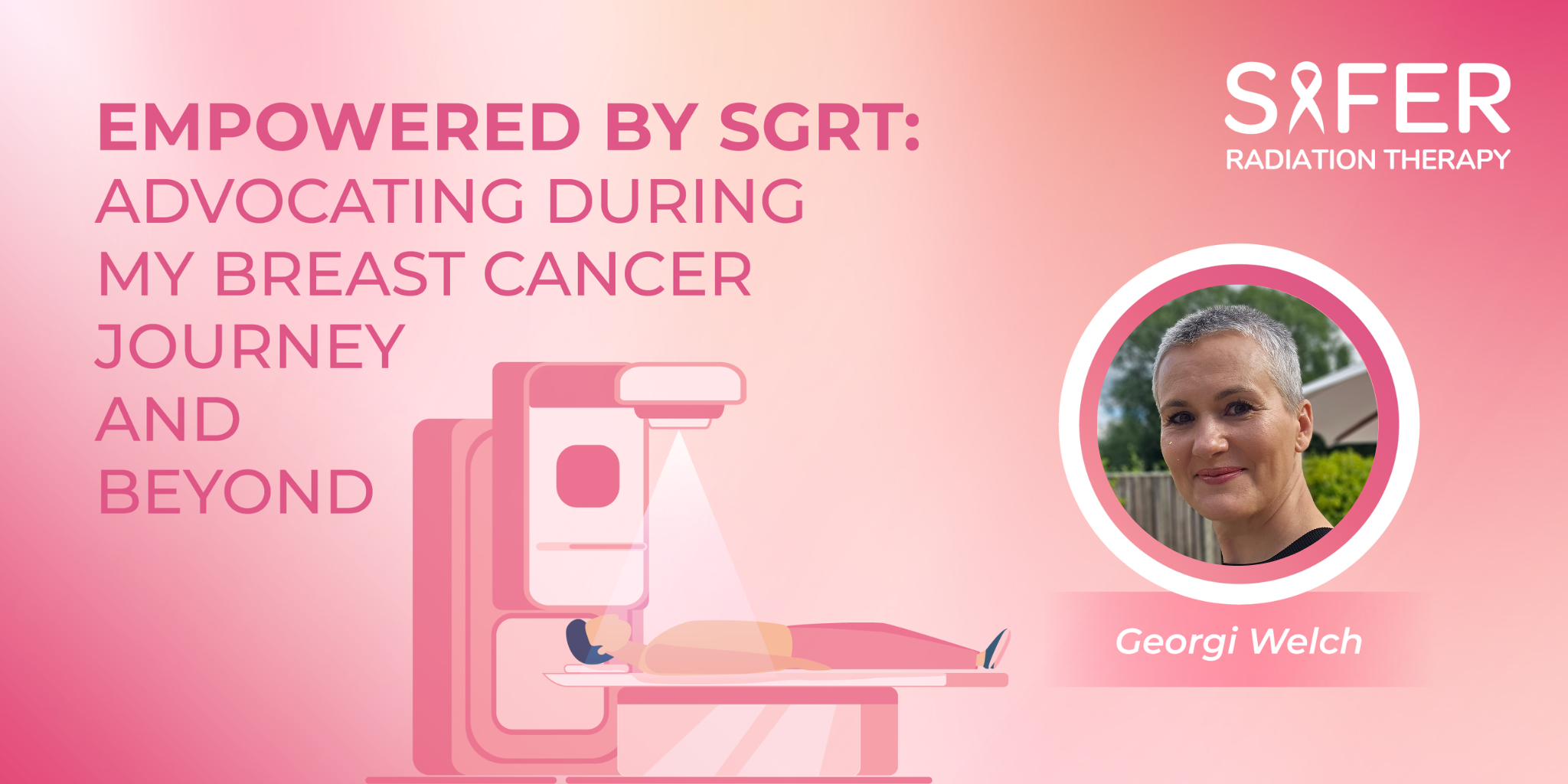 In an inspiring Instagram live session, patient advocate Georgi Welch opened up about her extraordinary journey through and beyond breast cancer and discussed how Surface Guided Radiation Therapy (SGRT) transformed her radiotherapy experience.
Recognizing the Signs:
Georgi's journey began in January 2022 when she saw a noticeable change in her left breast. Recognizing the potential seriousness, she sought an online consultation, which quickly led to a GP appointment. Though there was no lump, her GP referred her to a specialized breast clinic, where an ultrasound was performed as part of the suspected cancer evaluation. The diagnosis was Invasive Ductal Carcinoma (IDC), which was followed by the identification of invasive lobular cancer (ILC) post her lumpectomy.
Shifting from Tattoos to SGRT
Following her lumpectomy, Georgi's treatment path led her to GenesisCare in Guildford for radiotherapy. Here, she was treated using a technique called Deep Inspiration Breath Hold (DIBH) that would be used in combination with SGRT. Traditionally, the department would use radiotherapy tattoos to mark patients to ensure treatments were delivered accurately. To her surprise, she was informed that due to "newer technology," the need for traditional tattoos were eliminated. With the implementation of AlignRT's SGRT technology the clinic transitioned into a tattoo-less approach, whilst maintaining a high level of accuracy and precision. AlignRT is a contactless and non-invasive technology that tracks patient's position before and during radiation therapy with sub-millimetric accuracy. This ensures radiation is delivered exactly as planned.
Empowered by SGRT:
Georgi reflected on her radiation treatment process as "absolutely seamless." She found that the SGRT technology significantly simplified the alignment process, eliminating the need for frequent repositioning by radiographers. The non-invasive nature of SGRT ensured that she remained in the correct position throughout her treatment, enhancing both comfort and precision. A notable technology that was also part of her treatment was the Real Time Coach™ display, providing real-time feedback on her breathing. This engagement allowed Georgi to actively participate in her treatment, contributing to accurate and reproducible therapy delivery.
Beyond Breast Cancer:
Georgi Welch's journey through breast cancer showcases the transformative impact of SGRT on a patient's experience. The integration not only streamlined her treatment process but also empowered her with a sense of control. As more clinics transition to a tattoo-less approach through SGRT, patients like Georgi can embark on their treatment journeys with newfound confidence, knowing they are treated using the most advanced technology. Georgi, known as booby_business on Instagram, shares her journey with thousands – empowering, educating, and supporting people on a similar journey.
–
Vision RT is the inventor of Surface Guided Radiation Therapy (SGRT), a contact-free technology that uses 3D cameras and computer vision to help ensure radiation therapy is delivered safely to cancer patients. There are more than 2,000 Vision RT systems in active clinical use worldwide.
–
Safer Radiation Therapy aims to provide radiation therapy patients with the knowledge they need and the support they deserve.